NEW 7/28/15
Checklist Updates:
What's Changed
and Why

American Tree Sparrow
photo by
NYSYBC Youth Member
Aidan Griffiths, age 14

---
NYSARC Reports
1977 - 2012
Just added: 2012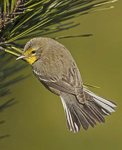 Grace's Warbler
Point Lookout, Nassau
photo by Lloyd Spitalnik
---
Historical Database
of all past NYSARC
Decisions
Now includes all reports discussed in the NYSARC Annual Report for 2012
a comprehensive listing
of over 2000 reports
submitted to NYSARC
since its inception
~
with links to associated NYSARC Annual Reports
---
Please submit a report for any rare sighting,
even if you think many
others have already reported the same bird.
Last Updated 7/29/15
On these pages you will find information about the New York State Avian Records Committee — what it is, what it does, and how you can contribute important information and documentation about rare bird sightings. In addition, you can view annual reports about NYSARC's decisions on specific sightings, and you can even peruse a detailed database of past submissions.

Checking the Checklist: staying current with advances in bird systematics

Read Angus Wilson's full article about the relentless advance of the New York State Checklist from year to year and the reasons for this year's AOU checklist changes, including the fascinating "back story" behind the one and only New York State Trindade Petrel found in Ithaca in 1933.


The sharp-eyed among you may have noticed that the web version of the Checklist of the Birds of New York State is regularly updated, usually at least once a year. Why so frequently? Are new species found that often? The answer is a resounding YES! Each year the New York State Avian Records Committee (NYSARC), which oversees the state list, adds one or two new species based on the documentation it receives and reviews. To date, the NYS checklist stands at 485 species and at the current rate of ascent will reach the magical 500 in less than ten years.

But new species aren't the only changes that need to be made. Every year, the AOU's North American Classification Committee (NACC) publishes a supplement to its Check-list of North American Birds, detailing various revisions. These include lumps (merging of two or more species into one), splits (opposite of lumps, usually subspecies becoming full species), occurrence of entirely new species to North America, and also less glamorous changes such as alterations to the spelling of bird names ('linguistic housekeeping') and changes in taxonomic order or grouping.

In July of this year, the NACC published its 56th Supplement, including two revisions that impact the NYS Checklist:  the splitting and renaming of a rare seabird that has only occurred once in the state, and a change to the taxonomic placement of our familiar frined, the American Tree Sparrow. Read full article.


Angus Wilson
Chair, New York State Avian Records Committee
New York State Ornithological Association